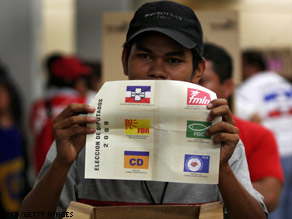 U.S. Congressional leaders should immediately rebuke two of their colleagues for attempting to influence voters of another democratic country through threats and intimidation.
The Committee in Solidarity with the People of El Salvador (CISPES) reports that two anti-immigrant congressional members, Rep. Trent Franks (R-AZ) and Rep. Dan Burton (R-IN), are publicly calling for El Salvadoran refugees and immigrants to be deported from the U.S. if the citizens of El Salvador elect opposition party Frente Farabundo Martí para la Liberación Nacional (FMLN) in Sunday's upcoming elections.
FMLN is running against the right-wing ARENA party in an election that will leave an indelible mark on the country, both culturally and historically, as ARENA has worked openly and closely with the Salvadoran death squads whose rapes, executions, and torturing of citizens and dissenters, both domestic and foreign alike, prompted thousands of refugees to flee to the United States in the 1980s.
On Tuesday, March 11th, both Franks and Burton tried to influence the upcoming elections from the floor of Congress by falsely stating that the U.S. would restrict the ability of Salvadorian refugees and immigrants residing in the United States to send money to their family members back home.
Purposefully spreading politics of fear and intimidation is nothing new for Franks and Burton. Both are members of the Federation for American Immigration Reform's (FAIR) front group the House Immigration Reform Caucus (HIRC). HIRC is headed by former FAIR lobbyist Rep. Brian Bilbray. Interesting to most will be the fact that alongside the Ku Klux Klan and neo-Nazis FAIR has been designated as a hate group by the Southern Poverty Law Center.
Also noteworthy is the fact that the House Immigration Reform Caucus has one of the most extreme voting records in Congress and has consistently undermined civil and human rights in the United States. With this in mind, it is not surprising that Franks and Burton are now blatantly seeking to undermine another country's democratic elections.
Our leaders must stand with the majority of Salvadorans who are alarmed by the increasingly scornful actions and hateful rhetoric of Representatives Franks and Burks. Leadership aside, we as citizens of the United State must stand with the citizens of El Salvador as they call for fair elections that are free from intimidation.
Call the State Department and demand that they hold a media conference in El Salvador's capitol, San Salvador, to publicly express that the US government will maintain neutrality with respect to the Salvadoran presidential elections. To speak to Chris Webster at the state department, call 202.647.4087 or leave a message at 202.647.6575.
Radical right strategist William Bennett once said of the United States that:
"America's support for human rights and democracy is our noblest export to the world."
Bennett probably didn't mean it, but let's prove him right anyway.