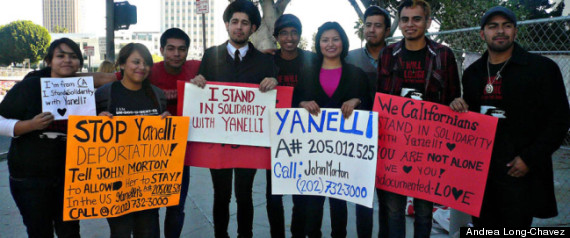 Originally posted by Huffington Post on February 3, 2012.
Yanelli Hernandez, 22, tried to commit suicide while in immigration detention. Twice.
Twice, she survived.
She was doing everything she could to prevent authorities from deporting her to Mexico, a country she never knew and a place where she has no one.
In her support, and as part of a wider movement for immigration reform, immigrant rights activists from the Inland Empire Immigrant Youth Coalition (IYC) gathered in Los Angeles this week to decry anti-immigrant sentiments and policies that they say have taken a toll on the mental and emotional health of their communities.
They held posters that read "We Love You Yanelli," and others that listed the telephone number of John Morton, the director of U.S. Immigration and Customs Enforcement (ICE).
"If there's anyone out there who feels alone, it's time for us to come out of the shadows!," said Alex Aldana, 25.
Aldana is one of 10 undocumented immigrant rights activists who was arrested last week during two peaceful sit-ins in California's San Bernardino County. They were protesting Secure Communities — a federal program that enhances information sharing between ICE, the FBI and local police — and trying to highlight the need for immigration reform for undocumented youth who were brought to the country as children, raised here, and consider themselves American. They were also agitating for the DREAM Act, which would bring many of them back from the shadows and legalize their immigration status.
Aldana introduced himself as "queer, undocumented and unafraid."
Continue reading here.